Current version: 1.3.0, released: 2009-07-04
GShisen is the first GNUstep game!
The object of the game is to remove all tiles from the field. Only two matching tiles can be removed at a time. Two tiles can only be removed if they can be connected with at most three connected lines. Lines can be horizontal or vertical but not diagonal.
Remember that lines may cross the empty border. If you are stuck, you can use the Hint feature to find two tiles which may be removed.
Note:
Version 1.3.O marks the import of the original sources by Enrico Sersale in to the GNUstep Application Project. The main reason is to have a reliable repository and to salvage the application from bitrotting.
The project was recreated using ProjectCenter, the interface was redone using Gorm files instead of hand-coding: the result is less and cleaner code, furthermore some changes were made so that it compiles under MinGW. Thus this version works under Windows, it was ported natively using XCode and InterfaceBuilder to Macintosh too.
1.3.0 on Unix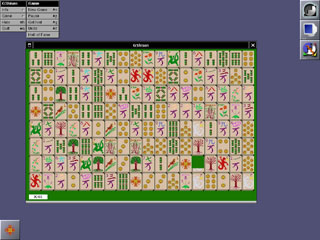 1.3.0 on Windows. Horizontal in-window menus of GNUstep are enabled, but no further theming.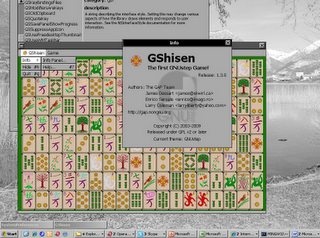 1.3.0 on Macintosh.